Wine Tasting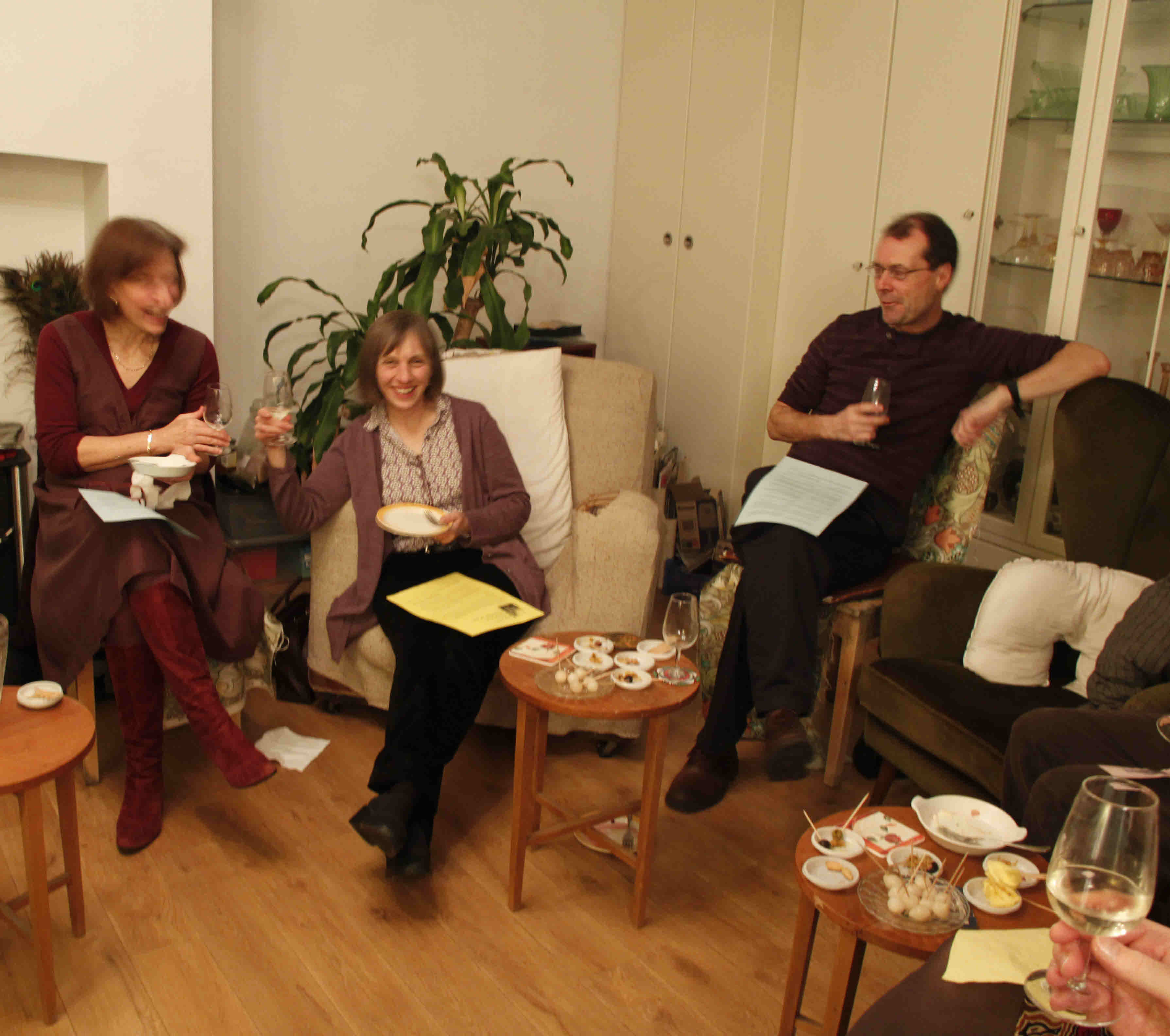 Our wine tasting evenings give you a chance to enjoy - and learn about - wines in a friendly atmosphere. We are wine enthusiasts improving our knowledge the fun way! Educating your palate greatly adds to the pleasure of drinking but our tastings are also very sociable occasions.

An evening may cover wines from a particular country such as Hungary or South Africa, or round a particular theme such as matching food with wine or wines from a particular supplier. It is an ideal way of socialising and making new friends or relaxing with regular friends. Most of our events are held in members' homes but we also visit wine fairs, wine bars and tastings organised for us by retailers. Each tasting is followed by a delicious buffet, often reflecting the wine theme for the evening.
The charge just covers the cost of the wines and food and so is very reasonable compared with wine tastings elsewhere and is usually £15 - £20, depending on the costs of the wine.

We are enthusiasts growing our knowledge and appreciation of one of the greatest pleasures in life.
Next events:
In January wine takes a back seat to whiskey and haggis with a belated Burns Night celebration on Sat 28 January at Vic's house in Hampstead but on Sat 25 February we'll taste some Argentine wines in Kamila's home in Stroud Green. See diary for full details.

Previous tastings:

Dec 2016 The Wines of the Rhone

Nov 2016 Wines from Alsace and Lorraine

Oct 2016 USA Wines

Sep 2016 Wines from Chile

Aug 2016 Summer Wines

Aug 2016 Spanish Wine

Jul 2016 Food and wine matching

Jun 2016 Bordeaux

May 2016 Annual visit to Davy's tasting and lunch in Greenwich

May 2016 Wines from around the World

Apr 2016 Black Sea Wines

Mar 2016 Burgundy

Feb 2016 Vintage Aussie Shiraz

Jan 2016 Wines from South Africa
Dec 2015 Greek wines from Greek grapes
Nov 2015 English still and sparkling wines
Sep 2015 Viognier and Syrah: The Rhone and beyond
Aug 2015 Chilean wines
June 2015 Rose wines (and BBQ)
June 2015 Annual visit to Davy's tasting and lunch in Greenwich
May 2015 Ozzie reds and Kiwi whites
Mar 2015 Italian wines from Italian grape varieties
Feb 2015 Beyond Chile - other South American wines
Jan 2015 Eastern European wines
Dec 2014 Christmas celebrations! - Champagne and other sparklers
Nov 2014 German and Austrian wines
Oct 2014 Bring your own bottle
Aug 2014 The Wine Society's 'Premium Dozen'

Jul 2014 Portugese wine - vinho verde, port and more

Jun 2014 Davy's wine-tasting & lunch in Greenwich

Apr 2014 Purely Pinot Noir

Mar 2014 Wines from the regions of Spain

Feb 2014 Bordeaux

Jan 2014 The much improved wines of Eastern Europe

Dec 2013 Robust but excellent: Australia's better wines

Nov 2013 Comparing different wines from particular grape varieties

Oct 2013 Virgin Wine Fair and South American wines

Aug 2013 Californian and other US wines

Jul 2013 England's still and sparkling wines

Jun 2013 Wines from Italy

May 2013 South African wines

Mar 2013 Spanish Food & Wine Fair and Rhone wines

Feb 2013 Fine wines from Burgundy

Jan 2013 French wines from the Wine Society's flagship range

Nov 2012 Off the beaten track: quality wines from unusual places

Oct 2012 Belgian beers and buffet

Sep 2012 The great French 2009 vintage

Aug 2012 Grape varieties: Riesling, Chenin blanc, Syrah and Pinot Noir

Jun 2012 Australian wines

May 2012 Spain: beyond Rioja

Apr 2012 New Zealand Wines

Mar 2012 Spanish food and wine fiesta

Jan 2012 Grape varieties: Chardonnay, Sauvignon blanc, Merlot and
Cabernet Sauvignon

Dec 2011 Matching Food and Wine

Sep 2011 South African Wine & Food

Aug 2011 Tokay, "Bull's Blood" and other Hungarian wines

Jul 2011 Wines for under £5

May 2011 Virgin wines



Dave Lawrence & Jacqui Heywood